What is an Orgasm?
The Science Behind Male Orgasms
If you were to ask a large selection of men to try and describe an orgasm, you would probably get a wide variety of answers. However, most men will agree that there is a short burst of pleasure (10-20 seconds) of ejaculating and intense euphoric sensations surging throughout their body, with an obvious focus on the penis and pelvic area.
…orgasm and ejaculation, once thought to be one and the same, can actually be separate events
Physically speaking, an orgasm is the height (climax) of sexual stimulation and the male sexual response cycle. Orgasms are characterized by rapid uncontrollable muscle contractions of the pubococcygeus muscle, bulbospongious muscle, and the prostate gland….and usually, ejaculation.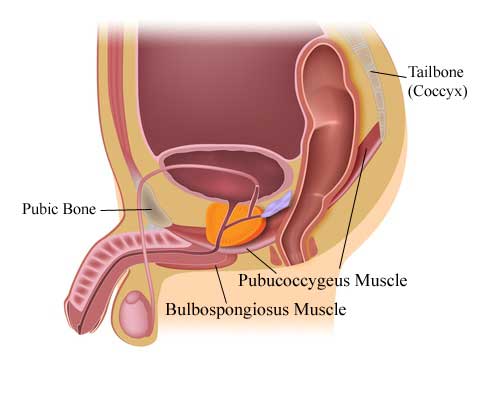 Many people don't know that orgasm and ejaculation, once thought to be one and the same, can actually be separate events. In fact, it is entirely possible to have a dry orgasm with no ejaculation at all. Sometimes this can be caused by medical conditions. Sometimes men actually strive for dry orgasms, intentionally keeping their ejaculation from leaving their body while still enjoying a full strength orgasm.
The Phases of an Orgasm
Through the years there has been some disagreement on what the stages of an orgasm are. Generally regarded as the "human sexual response cycle", most experts approach the subject from a physical angle as opposed to the psychological aspect. It's important to note that while both men's and women's sexual response cycles are often treated as the same, many researchers argue that a women's orgasm is more likely to require both mental and physical participation – while most men find that physical stimulation will be enough for them to reach orgasm without needing to be completely in tune with their emotions the same way women often do.
The most common agreed upon model for the human sexual response cycle was published in 1966 by researchers William Masters and Virginia Johnson, and is often referred to as the Masters and Johnson 4-stage model. These two researchers observed almost 700 men and women having orgasms (through masturbation as well as coupled male-female intercourse) over the course of a few years. Their research was conducted in a laboratory and was the first scientific approach study of its kind. What Masters and Johnson found in the 1960's still applies today and although other models have since challenged the 4-stage sexual response cycle, it still stands as the most commonly agreed upon model.
The 4-stages of the male human sexual response cycle as presented by Masters and Johnson:
Stage 1 – Excitement Phase: In males, this phase is marked with the penis becoming erect. This is achieved through either physical stimulation or mental stimulation (such as watching porn or simply by thinking sexual thoughts). Many men also experience 'flushing' – an increase of blood flow to the skin, most notably to the upper body, torso, and head/face.
Stage 2 – Plateau Phase: This is the stage before you actually climax with an orgasm. Characterized by full erection, swollen testicles that move up closer to the body, increased hear rate, heavier breathing, tensing of muscles, and sometimes the emission of precum from the tip of the penis.
Stage 3 – Climax/Orgasm: Typically associated with ejaculation, orgasm is the peak of the sexual response cycle and usually lasts only 10-20 seconds. Once orgasm and ejaculation are imminent at a 'point of no return' this is known as ejaculatory inevitability and there is no way to stop an orgasm once past this point. Intense rhythmic contractions ejaculate spurts of semen out of the fully erect penis at a rate of approximately every 0.8 seconds, with the largest volume of semen usually ejaculated during the second through the fifth or sixth orgasmic contractions. Heart rate and breathing are both elevated, and involuntary vocalizing (moaning, etc) can occur. A general feeling of euphoria makes orgasms pleasurable in conjunction with the intense muscular contractions.
Stage 4 – Resolution Phase: Immediately following the male orgasm is the resolution phase. This is marked with the loss of erection, decreased heart rate and breathing, and often a sudden drop in interest in sexual activity as well as a general feeling of satisfaction and possibly sleepiness. A man is unable to re-attain his erection during a period of time in the resolution phase known as the "refractory period" which typically lasts from 30 minutes to a few hours.
Interesting Facts About the Male Orgasm
Now that we've explained the science behind an orgasm, here are a few things about male orgasms that you might not know.
The male orgasm typically lasts for a shorter period of time when compared to a female orgasm.
Your orgasmic contractions usually start before any semen comes out – you'll typically have one or two contractions before semen is shot out.
Because the prostate gland also contracts during orgasms, some men find prostate massage to be very pleasurable both before and during orgasm. This can be done either by stimulation through the anus, or externally by pushing up on the perinium (the area between the scrotum and anus).
The refractory period after an orgasm when a man can not get erect is caused by ejaculation.
Orgasm and ejaculation are not the same thing. Some men claim they can intentionally have dry orgasms, which eliminates the dreaded refractory period and allows for multiple male orgasms.
Male ejaculate is produced in a number of different places, not just in the testicles.